Nissan Sentra for Sale Mesquite, TX

Are you in the Mesquite, TX, area and looking to buy or lease the Nissan Sentra? Courtesy Nissan can help. Our inventory includes a variety of Nissan models, including the Nissan Sentra. We encourage you to come down to the dealership and get a look at the Nissan Sentra for yourself.
Before you get behind the wheel, take a look at this page to learn a little more about the Sentra and what our service department can offer.
Learn About the Nissan Sentra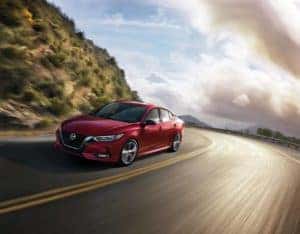 The Nissan Sentra is a great choice for those looking for a bold, stylish sedan. With three trim levels and fun exterior paint options like orange, red, and blue, you can customize the Sentra to fit your needs. The Sentra also has a focus on performance to give you that incredible drive.
The Sentra has a 2.0L 4-cylinder engine that puts out 149 horsepower and 146 lb-ft of torque. The Sentra has a customizable Eco Mode to optimize fuel efficiency.
For better performance and a more exciting drive, the Sentra has a wide body and stays low to the ground. This gives you a sports car feel while you drive. The D-shaped steering wheel will provide you with quicker steering, so you never want to stop driving.
Our Service Department
To keep your Sentra in the best shape possible, it will need regular maintenance. This is where our service department can help. Our technicians can handle anything from routine maintenance to vehicle repairs, including things like oil changes, transmission replacements, tire rotations, and more.
Are you looking for parts for your next auto-DIY project, or want our technicians to install some parts to customize your Sentra? You can order the parts through our parts center. You can order genuine Nissan parts, so they'll fit your vehicle better and last longer than standard parts.
Do you need to stick around while we work on your Sentra? No problem. If you need to work while you wait for your Sentra, our business center can help you get work done. We offer private workstations if you need a place to work interruption-free.
Explore Mesquite, TX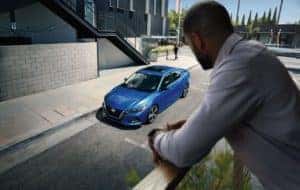 Mesquite, TX, has plenty to do and a ton of places to eat so you can enjoy a fun day out with many options.
If you're a fan out spending the day outdoors, Samuell-East Farm is a 609-acre park with plenty to do and a long history. Bring your friends and have an outdoor cookout on the grills or spend the weekend camping. You can even hit the 2.5-mile Samuell-Farm Trail!
When you're finished with the great outdoors, grab some classic southern BBQ at Mesquite BBQ. Since 1959, this family-owned and -operated restaurant will not disappoint. Dig into classics like a pulled pork sandwich or a rib plate.
Test Drive the Nissan Sentra Today!
Feeling the itch to get behind the wheel of the Nissan Sentra? Our team at Courtesy Nissan is happy to help drivers from Mesquite, TX, do just that. Come down to the dealership and get behind the wheel to see just how fun the Sentra is to drive. You can contact us by phone or schedule a test drive online.