Nissan Maintenance Schedule

What's the best way to make your Nissan last longer on the roads of Richardson, Garland, Addison, and Plano? Start by providing it with manufacturer-recommended service, as outlined in this Nissan maintenance schedule. When you follow these Nissan maintenance schedule guidelines from Courtesy Nissan, your Nissan should be able to last for 200,000 miles and beyond.
About These Service Intervals
The service intervals on this page apply to most Nissan models, from the Versa and Altima to the Rogue and Pathfinder. However, some models require additional maintenance. For example, the Nissan TITAN requires oil changes every three months or 3,750 miles-compared to the 6-month/5,000-mile recommendation for most other Nissan vehicles.
Nissan Rogue Maintenance Schedule
Nissan Altima Maintenance Schedule
Nissan Murano Maintenance Schedule
This is also the standard Nissan maintenance schedule. If you drive under severe operating conditions, you'll want to perform additional inspections. These conditions include extended idling in hot temperatures or heavy towing. Check your owner's manual for detailed recommendations pertaining to your specific model.
Want even more peace of mind? Every time you bring your Nissan in for routine maintenance, ask for a complimentary multi-point inspection. Your service technician will check various parts, such as the wiper function, tire tread, and battery capacity, so you can be sure everything is working as it should.
One last thing before we get to the maintenance schedule: The services below are meant to be repeated at regular intervals. For instance, the maintenance under the 6-month/5,000-mile interval should be repeated every six months or 5,000 miles-whichever comes first.
5,000 miles/6 months
Every time you bring your Nissan in for routine maintenance, it should include an engine oil and filter replacement. This helps prevent wear and tear on your engine's internal components.
At the same time, rotate your tires at this interval to help them last longer. When you get this service done, the tire pressure will also be checked and adjusted.
10,000 miles/12 months
About once a year or so, check your transmission fluid or oil-whether you have a manual, automatic, or continuously variable transmission. Other fluids that should be checked at this interval include differential oil and transfer case oil, if your Nissan has these components.
Make sure to also inspect the propeller shaft and drive shaft boots. Meanwhile, complete a full brake inspection by looking at the following brake parts:
Lines
Cables
Pads
Rotors
Drums
Linings
15,000 miles/18 months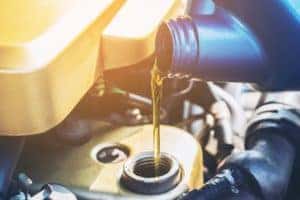 At this interval, you should replace the in-cabin microfilter. This helps prevent pollen, dust, and other pollutants from entering the cabin, so you can breathe easy.
Regardless of mileage, your Nissan Intelligent Key™ battery should be replaced every 18 months to ensure continued function.
20,000 miles/24 months
After a while, your brake fluid begins to absorb moisture from the air, making it less effective. That's why Nissan recommends you replace your brake fluid every two years or so. You'll also want to perform additional inspections at this interval. Take a look at the following parts:
Axle & suspension parts
Front suspension ball joints
Fuel lines and connections
Fuel tank vapor vent system hoses
Exhaust system
Steering gear, linkage, and linkage ball joints
Schedule Your Nissan Service Today
Whenever your Nissan needs service in Richardson, Garland, Addison, or Plano, bring it to Courtesy Nissan! Our highly qualified technicians can perform all the services listed on this Nissan maintenance schedule. Contact us today to schedule your appointment!